Hello Everypony!
As it goes, some may attempt to do a custom pony with new wings or different pose. Such a feat requires tools which had been used by many and tested to work ideally for this purpose. Here is some information, gathered from the UK pony folk regarding on what to use to make your life easier!
The "Green" Stuff.
What's That?
A 2 part epoxy resin that
requires mixing
before use. The more yellow, the softer the mix will be and the longer the curing time. The more blue, the harder the mix will be and a shorter curing time. Knead thoroughly to ensure no lumps of yellow or blue otherwise they will ruin the finish as they won't cure properly.
Where can I get it?
Because we dont have Games Workshops in Czech, your best bet is either check local artist stores for anything similar or order online on
eBay
.
Bake or air dry?
Air dry, its best to dry overnight to be completely sure. Once its dry it can be filed, drilled, sanded etc.
Any tips?
Keep it wet!
Working with dry green stuff is not ideal - water helps keep it mailable and removes finger prints.
Do not leave to cure on wood or fabric surfaces - it will stain the surface or stick to it permanently and leave marks!
Best is to leave to cure on a soft plastic so you can remove it easily, the plastic film it comes in works great!
Be patient, make things in stages. Once green stuff touches each other it becomes tacky and if you want to pull it apart you can possibly ruin the whole thing.
Links to buy on eBay with shipping to Czech:

12 inch long:
http://www.ebay.co.uk/itm/12-inches-Knea...3a6e821329
6 inch for starters:
http://www.ebay.co.uk/itm/Green-Stuff-Kn...3f0185fbf0
Example of Green stuff use:

My Little Space Marines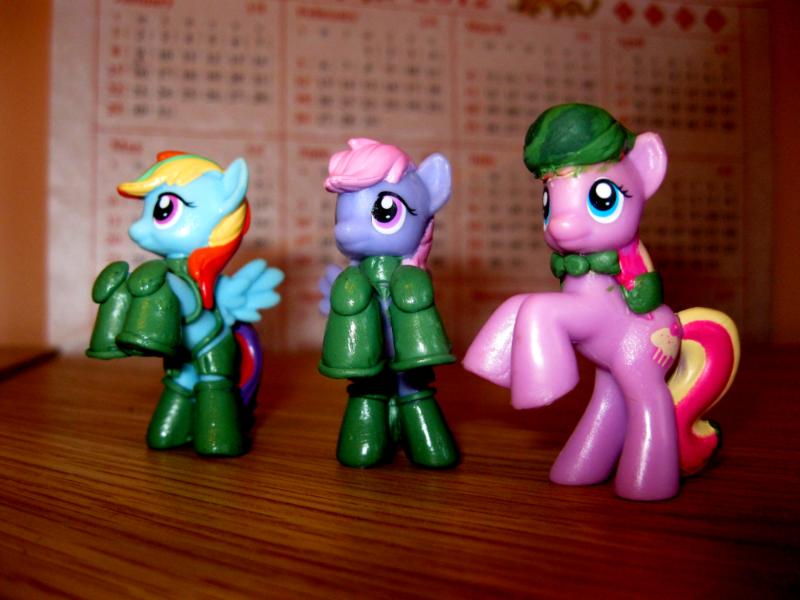 Reference:
UK of Equestria; Tze Internet

READ &  RAVE !

Fancy some DA?
Attending in 2018:
Friendship Fest, Japan, Festival Fantazie, 7. Zimní Karaoke party
Wielder of the BassCanon Mk.VIII !
CZ/SK bronies z.s.